Fashion has a million so-called influencers, but only one Alexa Chung. Anyone who knows me or has followed me for some time will know that I simply adore her and her style. See my previous post on the 'Street Style Queen' if you want some street style and hair envy this sunny Sunday afternoon…
Following her highly successful collaborations with AG Jeans and big British brand, Marks and Spencer, it was only a matter of time before Alexa went solo.
During summer last year, rumours were rife about Alexa launching her own clothing label called AlexaChung after subtle hints made by the star. It was later confirmed that this was true, but no date was specified other than 'the beginning of 2017'. Since that very moment, I've been waiting in anticipation for some news and, thank the lord, the time has come.
"I'd love to open my own shop"
This week, Alexa Chung began her long-awaited publicity drive for her new fashion brand when she launched a new website and Instagram account (@alexachungstagram), teasing us all with a sneak peak of her upcoming collection and her campaign videos. If you haven't seen this already, I suggest you do because you seriously will not be disappointed.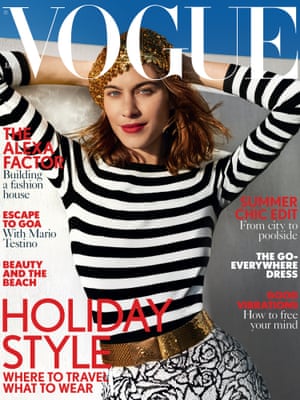 In next month's British Vogue magazine, which came out on Friday (12th May), she gave us fan's a preview of the clothing line, which will be available to shop at the end of this month (30th May). In the issue, Chung – a contributing editor at the magazine – describes launching the collection as "just the start", and went on to say that she'd "love to open a shop" within her first five years in business. Great news for Alexa Chung lovers out there!
"I'm young enough and excited enough to start something new, but old enough to think I could pull it off" – Alexa Chung
Her collection is expected to span 100-plus pieces including shoes, ready-to-wear pieces and jewellery when it is released in its entirety later this month. From the latest teasers, I think we can forecast lots of frills, blouses and tomboy tweed, giving an distinct overwhelming British feel, and giving homage to her roots and adolescent years.
Her collection will be available to shop on May 30th on her brand new website, ALEXACHUNG.com. Sign up now to be on the mailing list!
I'm excited! Are you?
With love,
Victoria
x